LECTURE
Pueblo Lifeways & Traditions
with Marlon Magdalena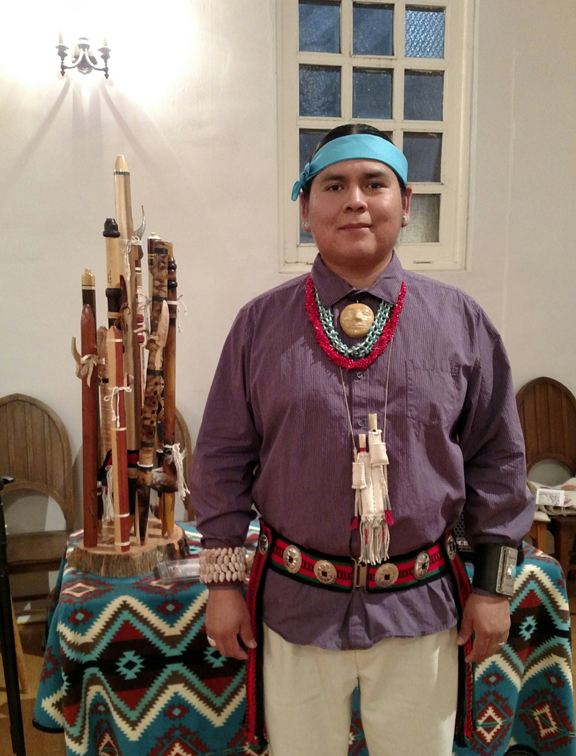 April 1, 2017
2:00 PM
Kit Carson Electric Board Room
at 118 Cruz Alta Rd.

The people of the American Southwest have a rich cultural heritage that dates back hundreds of years. The program "Pueblo Lifeways and Traditions" will focus on the Pueblo People, and more specifically, the Jemez People. Our speaker Marlon Magdalena begins with an orientation on Pueblo languages and cultures before delving into this own experiences as a Jemez Pueblo tribal member. Artifacts and replicas will be utilized to dicuss their usage and meaning in Pueblo Culture, while also explaining the reason why some Pueblo Peoples do not indulge in the sharing of cultural knowledge with "outsiders."
In recognition of the Taos High and Middle School cross-country running accomplishments, Marlon will share the long tradition of running that dates back to the time before modern convenyances like cars ever existed. Runners were used as messengers to carry news to neighboring villages. Even in modern times running is a very important spiritual ritual and way of prayer. The local history of running will be expanded with Marlon's own experiences as a descendant of runners and as a runner himself.
Marlon Magdalena is the Instructional Coordinator for the Jemez Historic Site located in Jemez Springs, NM. He is in charge of educating the public about Jemez history and other Native American related topics. Marlon is a Jemez Pueblo tribal member and resident. He is also a flute maker and performer.