Annual Business Meeting
________________________________
Election of officers and a review and report on the past year
and discuss plans and goals for the coming year.
The meeting starts promptly at 2:00 PM. ________________________________
Featured Program
Panel Discussion
"Growing up at Taos Pueblo"
with John Suazo & Jonathan Warm Day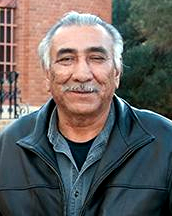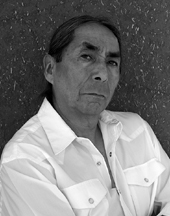 Saturday, February 6th, 2015
Kit Carson Electric Board Room
at 118 Cruz Alta Rd.
The TCHS Annual Business Meeting precedes the special program, "Growing Up At Taos Pueblo." The format of the program is as a panel discussion open to the attendees of this meeting. Featuring two prominent Taos Pueblo artists and writers talking about their recollections growing up at Taos Pueblo.
John Suazo was born in 1951 and attended the University of New Mexico (Albuquerque), Navajo Community College in Tsalle, AZ and Institute of American Indian Arts in Santa Fe, NM. In 2006 the Harwood Museum of Art presented a 30 year retrospective of his work. John Suazo is a stone sculptor whose work is characterized by simplifying forms, manly figurative human beings, birds and mammals. These subjects all related to his cultural traditions. He has received numerous awards and his work in represented in many public, private and corporate collections.
Jonathan Warm Day Coming is a well-known artists and writer who began woodcarving as a child and was introduced to art by this mother Eva Mirabal a highly esteemed artists. Jonathan studied art at University of New Mexico and his work is exhibited in various galleries and included in
several important collections. When writing, he draws inspiration from his personal experiences and his family's oral traditions.