LECTURE
My Grandpa Painted Pictures
with Barbara Brenner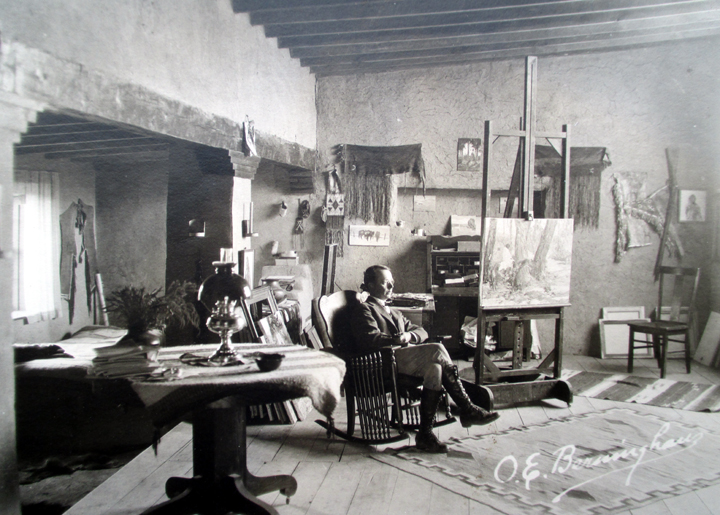 March 4th, 2017
2:00 PM
Kit Carson Electric Board Room
at 118 Cruz Alta Rd.

Barbara Brenner's talk will not be purely academic, but a short biographical piece colored with his paintings and life. Her grandfather was a modest man and often claimed that people would probably mistake him for an "Undertaker". His humor and continued efforts to make Taos a better place were well known among Taosenos. Barbara Brenner was born and raised in Taos at a time when all the "founding" artists were still alive and working in Taos. She had the good fortune to know all of them, although for some she has childhood memories.
Oscar Berninghaus (1874-1952) was an American artist, born in St. Louis, Missouri and a founding member of the Taos Society of Artists. He is best known for his paintings of Native Americans, New Mexico and the American Southwest. Although Berninghaus had little formal training his natural abilities and continued efforts culminated in many awards such as the St. Louis Artist's Guild prize (1924) for his painting Autumn Days and numerous commissions for murals like the Missouri State Capitol, Fort Scott, Kansas post office and others. Beyond his role with the Taos Society of Artists (1915-1927), he was a member of many art ogranizations including the National Academy of Design, New York, NY, the Salmagundi Club, New York, NY.
Barbara Brenner was educated at the Brownmoor School and holds a B.A. from Colorado College. In 1985,she researched, edited and published a book on Oscar Berninghaus.
The Taos County Historical Society presents its monthly, free, pubic program "My Grandpa Painted Pictures" by Barbara Brandenburg Brenner on Saturday, March 4, 2017, at 2:00pm in the Kit Carson Electric Cooperative Board Room, 118 Cruz Alta Rd., Taos. Barbara Brandenburg Brenner is the the granddaughter of Oscar E. Berninnghaus a founding member of the famed Taos Society of Artists. The lecture is in collaboration with the Taos Art and Cultural Consoritum 2017 theme "Taos Stories and Legends".