2018
HONOREE LUNCHEON
May 6, 2018
Sagebrush Convention Center
12 Noon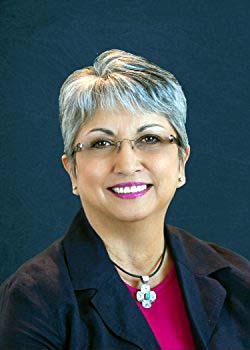 The featured speaker at the Honoree Luncheon is Henrietta Martinez Christmas, genealogical and historical researcher and New Mexico historian. The title of her talk is
"A History of Taos County Through Genealogy".
Henrietta Martinez Christmas a native New Mexican is a well-known genealogical and historical researcher. She descends from eleven of the soldiers that came with Onate in 1598. She has written several books which relate to New Mexico's small towns and history and over 160 articles about New Mexico's Colonial families. She is a long-time member and current President of New Mexico Genealogical Society. She has worked with the History Museum of New Mexico, The Albuquerque Museum, The El Camino Real Heritage site in preparing exhibits and researching historical sites. She is a frequent contributor to author's book in terms of researching biographies of individuals. She works with a group that honors historic women in New Mexico for the NM Historic Marker Program. Honored by the DAR for historic preservation, she has extracted and transcribed over 50 books which consist of hundreds o thousands of records. Her latest award-winning book The Genealogy Checklist won two awards in 2017. Her talk "A History of Taos County thruogh Genealogy" examines the ususal and unusual events, landdowners, censue and timelines of Taos County to see how one is connected to the history of this area.
Honoree Trudy Healy is a descendant from several generations of Ranchos de Taos family. Her father was Juan Valerio who taught her the value of acequia and the need to protect water. He set a great example with community service and was mayordomo of the acequia and commissioner of Taos County for two terms. Trudy's mother was Mercedes Gonzales Valerio and was responsible for her love of art. Trudy opened a gallery Milagro de Taos Gallery in 1988 and represented many artists among them the well-known Jim Wagner.

Honoree Ed Healy was a collector of Jim Wagner's art and had visited Taos since the 1970's. He worked as a CPA and an instructor at the University of Maryland and the Pentagon. His great-grandfather founded Utah Construction, which headed the six companies that constructed the Hoover Dam and built water infrastructure for the Empire State Building. Ed who was living in Maryland had grown up in the West. His interest in Jim Wagner's art led Ed into the gallery and after meeting Trudy fell in love with her and asked her to marry to him. Together they founded the private Healy Foundation, twenty-five years ago, that focuses primarily on land and water issues and projecdts but also supports education, arts, film and programs for the elderly. They live north of Taos on a place they named Rancho Milagro. The Arroyo Hondo River runs through the ranch as does the Acequia Atalaya.