LECTURE
ROUTE 66
IN NEW MEXICO
by Baldwin C. Burr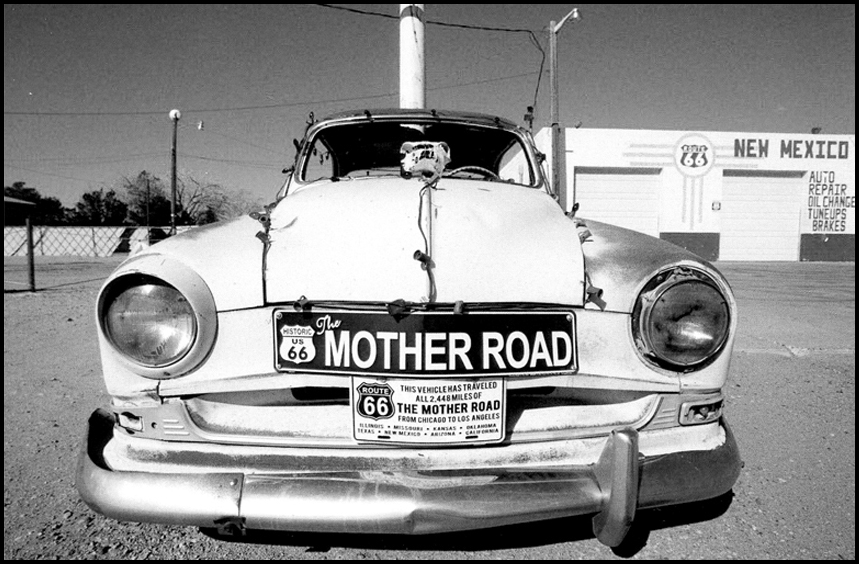 Saturday, September 9th, 2017
2:00 PM
Kit Carson Electric Board Room
at 118 Cruz Alta Rd.

The intersection of Central Avenue and Fourth Street in Albuquerque, New Mexico, is the only place in America where U.S. Route 66 crossed itself. From its inception in 1925, until a major realignment in 1937, Route 66 traveled north from Santa Rosa, to Romeroville, just west of Las Vegas, then on west to Santa Fe. From Santa Fe the road traveled south over La Bajada, to Bernalillo and Albuquerque. From Albuquerque, the road went further south to Los Lunas, where it turned west to Laguna, then it resumed the east-west orientation to Grants and Gallup.

This presentation details the history of U.S. Route 66 through New Mexico, from 1925 to the present day.

Baldwin G. Burr is the consulting historian at the Los Lunas Museum of Heritage and Arts and has earned a Bachelor of Arts degree in Art History at the University of New Mexico where he did graduate work in the History of Photography and Museum Practices at that same institution. In addition, he holds a Master of Arts degree in Education.

He is the author of Images of America: Los Lunas, and Images of America: Socorro, published by Arcadia Publishing. His book, Images of America: Belen, won the 2014 New Mexico-Arizona Book Award for History. His current book project is The Historic Ranches of Northeastern New Mexico, to be published by Arcadia Publishing.

As a History of Photography graduate student, Baldwin Burr studied with Beaumont Newhall, pioneering photo historian at the University of New Mexico. Mr. Burr has also made and exhibited his own personal photographs for more than fifty years. Baldwin Burr taught computer science, mass communications and film history at The University of New Mexico, computer programming and advanced database design at The College of Santa Fe, and taught at the Solar Photovoltaic Academy at Central New Mexico Community College. In 1998 Mr. Burr was named Teacher of the Year at UNM-Valencia.
Baldwin Burr is a member of the Historical Society of New Mexico, the Central New Mexico Corral of Westerners International, the Valencia County Historical Society, the Madison County (Ohio) Historical Society, and the Los Alamos Historical Society.He currently serves as the president of the Valencia County Historical Society, and is the secretary of the Historical Society of New Mexico.

This illustrated lecture is part of the Society's participation in the Taos Arts and Cultural Consortium theme of "Taos Legends and Stories "and is presented in partnership with the Taos Arts Council.
The Taos County Historical Society is a 501(c)(3) non-profit organization founded in 1952 and dedicated
to the recording and preserving of the irreplaceable in Taos County.
Membership is open to anyone upon the payment of dues. For additional information on the programs,
activities and history of Taos visit the Society's website at www.taoscountyhistoricalsociety.org
...
The Society encourages support through membership.